---
Home > Symbols of Radical Change
---
Symbols of Radical Change
Reprinted at Fashion Worlds October 2005 with permission of the The Nation (Nairobi)
By Kamau Mutunga
The current trend on the local fashion scene is a T-shirt bearing the portrait of Cuban revolutionary leader Ernesto "Che" Guevara. But although his familiar beard and beret are entering our fashion scene 38 years after his death in Bolivia, Guevara has long been a fashion statement and cultural icon in Latin American countries, where paraphernalia ranging from posters, buttons, watch faces, photos, coins, flags, medals, Cuban currency, murals, album covers, postage stamps and refrigerator magnets bear his image.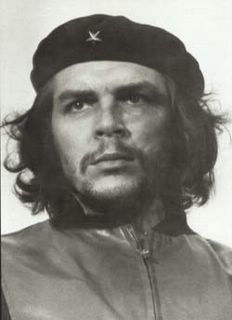 "Guevara T-shirts are part of the current fashion fad worldwide of leading trends from past heroes and legends like Bob Marley, Bruce Lee, Malcolm X and Nelson Mandela. The young want to be associated with revolutionary symbols of rebellion," says Hakim Adero, a clothes dealer at Sunbeam stalls on Moi Avenue in Nairobi. He adds: "A good number of gullible fashion slaves don't even know who Che Guevara was. Some think he is a Rastaman while others just fall for the romantic appeal of the Marxist firebrand because they think it looks cool. The T-shirts go for between Sh800 and Sh1,000."
In Kenya, it has been cool for those with a patriotic bent to wear T-shirts with images of Mau Mau heroes such as Dedan Kimathi. Subukia MP Koigi Wa Wamwere, for instance, wears one with a portrait of former Nyandarua MP JM Kariuki.
The trademark dressing of these heroes also dictated fashion trends. Take Kenyatta's fez, belt and leather jacket, which were considered chic by men from the '70 to the late '80s. The stiff Mao suits, often worn by Prof Anyang' Nyong'o, Njeru Kathangu, Mukhisa Kituyi and the late George Anyona were the trademark of Chinese strongman, Mao Zedong, much in the same way the Kaunda suit defines founding Zambian president Kenneth Kaunda.
Then there is the Nelson Mandela shirt by Ivorian designer Yusuf Surtee. The "teardrop" shirt, as it is called, was popular among Kenyan men in the early to late '90s. It is cut at the waist and buttoned up to the collar, but it was Mandela who made it a symbol of dignified simplicity.
And from the sandals presumably worn by Jesus Christ come the "Jesus sandals," a low-heeled canvas sandal with straps that are tied around the calf. They are popular among young women in Nairobi, where heroes are fast becoming money-minting projects.
Take 18-year old Samuel Chege for instance. His soon-to-be launched Samzi Wear will be exclusively designing T-shirts depicting Kenyan heroes. "I am wearing a Jomo Kenyatta T-shirt to advertise the images my clothing line will be printing. Kenyans have suddenly become patriotic and I'm sure they will identify with them," he adds optimistically.
John Biko 22, named after the late South African anti-apartheid activist Steve Biko, does not print images of heroes but collects them. "I collect Bob Marley T-shirts because he was a hero to me through his revolutionary reggae music, which makes sense to date."
And now the Che Guevara T-shirt. It has lingered longer as a fashion craze than that of any other revolutionary, dead or alive.
It all began when photographer Alberto "Korda" Diaz took Guevara's picture during a funeral in1960. The photo, known as "Gurrillero Heroico" (Guerilla Hero) was published seven years later when Korda gave a print to an Italian journalist, who printed it as a poster when Guevara died in 1967. The poster's popularity was spurred by the student movements then, which identified with rebellion. The eager market they provided shortly spread all over Europe and around the world.
In South America, young Latinos consider him a hero while older ones still see him as a merciless army major who ran Castro's firing squads, killing people in cold blood.
Strangely enough, his tragic early death created a legend that still lives.
But why is there renewed interest in heroes?
"Heroes are a fashion fad because the fashion industry has matured to become one of creativity with a cause. In the case of Kenya, we are celebrating African heroes through fashion. Again courtesy of the patriotic turn-around created by local music, Kenyans are slowly discovering who they are. They would rather have a T-shirt portrait of Kenyatta than that of American rapper 50 Cent," says Ritchie Ekhalie, head designer of Shujaa Kreations.
His two-month old design house prints Tshirts and spaghetti tops, caps and sweat shirts bearing images, not only of Guevara, but also Dedan Kimathi, Julius Nyerere and General John Garang ,who died in a plane crush in July 2005. Besides Guevara, Garang is currently the fastest selling hero image.